Search our Sites: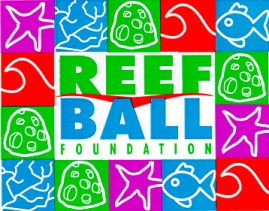 Images
There are hundreds and hundreds of images here which have been thumb nailed for easy retrieval. Just pick the category of the image you are looking for to focus your search. Press articles are copyrighted by their respective authors/publishers and are included only for educational fair use. Other images may be copyrighted by photographer/artist so please ask before you use any of these images.
If you have any images of Reef Balls that you would like included here, please e-mail them to reefball@reefball.com or mail us the picture for scanning (enclose a SASE if you want the picture back).
Just The Images-Thumb nailed for quick lookup (Scroll Down for Guided Tours)
The photos below are on Todd Barber's personal web pages so just hit your Browser's back button to return here.
Images from the Jules Verne's Filming of Reef Balls in New Zealand
| | |
| --- | --- |
| | (These photos are actually on the Reef Ball Development Group's website so just use your browser's Back button to return here. |
| | |
| --- | --- |
| <=Back | Copyright 1995 - 2000, RBDG, Ltd. all rights reserved. See brochure page footer for information on patents, copyrights, trademarks and service marks referenced, but not indicated, on this page. |